7th Annual Meeting of the LoCARNet in Jakarta, Indonesia
Theme : Challenges for Asia to Meet 1.5℃ Target
Date : 21 – 22 November 2018
Venue  : Aryaduta Hotel, Jakarta – Indonesia

Related link:
http://ccromseap.ipb.ac.id/web/singlepost/news/104
The seventh LoCARNet Annual Meeting was held in Jakarta, Indonesia on 21 – 22 November, 2018. Under the main theme of "Challenges for Asia to Meet 1.5℃ Target" , Plenary and Parallel sessions were held as below, following the Opening Ceremony and Keynote Speeches.
Unlocking the Potential of Tropical Forests as a Climate Change Solution
Urban and Rural Low Carbon and Climate Resilience Development
Mitigation in Asia: Lessons Learnt from Actions Taken by Various Stakeholders
Innovative Monitoring, Reporting and Verification System in Asian Countries
At the meeting, stakeholders from Asian countries presented their recent research and activities with the aim to realise the 1.5℃ target. They had a clear awareness and sense of responsibility that Asia, as the world's largest emitter of GHGs, is a key player in contributing to ensure the Paris Agreement goals turn into reality.
At the last Plenary Session on the second day, discussions focused on one of LoCARNet's consistent concerns, namely how can we promote evidence-based policymaking by bridging the gap between policymakers and the research community.
As a deliverable of the Meeting, LoCARNet announced the LoCARNet Jakarta Declaration which includes the enhancement of Asian research capacity with more participation by young scientists, as well as emphasising Asia's readiness for low-carbon transition which contributes to the 1.5℃ Target while achieving SDGs.
The Declaration also touched upon the realities facing Asian countries with the current wide diversity among countries, and also on the necessity of development in order to ensure welfare especially for low-income households. The Declaration emphasised that timing is crucial to avoid lock-ins and to seize "leapfrogging opportunities" by taking positive actions, supported by global climate policies, including technology transfer and incremental finance.
A report of the meeting and a table of presentations will be updated on this website in due course.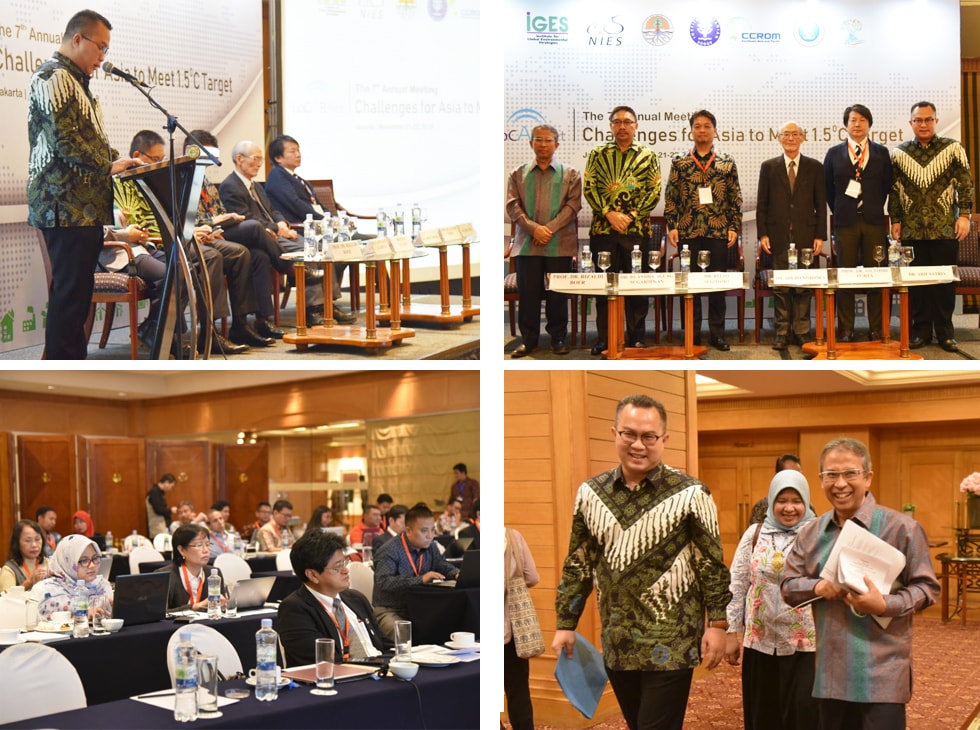 Day 1 – November 21, 2018

9:00-9:30 Official Opening Ceremony


Venue: Mezzanine Ballroom
Prof. Dr. Rizaldi Boer, Executive Director, CCROM SEAP, Bogor
Agricultural University, Indonesia

Dr. Ruandha Agung Sugardiman, Director General of Climate Change,
Ministry of the Environment and Forestry of Indonesia (MoEF)
Mr. Ryuzo Sugimoto, Director, International Cooperation and Sustainable Infrastructure Office, Global Environmental Bureau, Ministry of the Environment, Japan (MOEJ)
Dr. Shuzo Nishioka, Councilor, Institute for Global Environmental Strategies (IGES), Japan
Prof. Dr. Tsuyoshi Fujita, Director, Center for Social and Environmental Systems Research, National Institute for Environmental Studies (NIES), Japan
Dr. Arif Satria, Rector, Bogor Agricultural University, Indonesia

9:30-10:10 Keynote Speeches


Moderator: Dr. Junichi Fujino, Programme Director, City Taskforce, IGES
Venue: Mezzanine Ballroom
KN_1

Emission Pathways and System Transitions in Asia: Lessons from IPCC Special Report on 'Global Warming of 1.5°C


Prof. Priyadarshi R. Shukla, Co-Chair, IPCC WG III
KN_2

Roles of Research Communities for Low Carbon Development and Climate Change Responses


Dr. Nur Masripatin, Indonesian Climate Change Focal Point

10:10-10:40 Photo Session and Coffee Break

10:40-12:00 Plenary Session 1 (4 presentations X 20 minutes)


Moderator: Dr. Junichi Fujino, Programme Director, City Taskforce, IGES
Rapporteur: Ms. Syahrina D. Anggraini
Venue: Mezzanine Ballroom
P1_1

Experience on Participatory Processes for Low Carbon Future


Dr. Mikiko Kainuma, Senior Research Advisor, IGES, Japan
P1_2

Transformational Change for Rapid Decarbonization of Urban Development: China Experiences


Dr. Jiang Kejun, Director of Energy Research Institute (ERI), National Development and Reform Commission, China
P1_3

Deep Decarbonization of Agriculture and Forest Development: Challenges for Food Security


Prof. Dr. Rizaldi Boer, Executive Director, CCROM SEAP, Bogor Agricultural University, Indonesia
P1_4

Unlocking the Potential of Tropical Forests for Climate Change Solution


Dr. Daniel Nepstad, President and Founder, Earth Innovation Institute

12:00-13:15 Lunch Break

13:15-15:15 Parallel Sessions (5-6 presentations X 15 minutes) + discussion (45 minutes)
Room A: Parallel 1-1A and 1-2A (Venue: Mezzanine Ballroom)


Room B: Parallel 1-1B and 1-2B

(Venue: Monas 1)

Parallel Session 1-1 A: Bottom-Up Jurisdictional Innovation to Unlock the Potential of Tropical Forests as a Climate Change Solution


Chair: Dr. Daniel Nepstad , President and Founder of Earth Innovation Institute Rapporteur: Ms. Ai Farida
PS1-1A_1

Implementation of REDD through Jurisdictional Approach in East Kalimantan: Challenge and Ways to Address


Prof. Dr. Ir. Daddy Ruhiyat, M.Sc., University of Mulawarman
PS1-1A_2

Early Mover REDD+ Jurisdiction: Lesson from the Sate of Acre, Brazil


Dr. Alberto Tavares, Director, Acre Company for "Developing Ecosystem Services"
PS1-1A_3

Voluntary, Global Multi-Stakeholder Platforms: RSPO Jurisdictional Certification Pilot


Dr. Silvia Irawan, Executive Director, INOBU
PS1-1A_4

Challenge on Mitigation Aspect of Commercial Agriculture in Peatland Indonesia


Dr. Lee Ser Huay Janice Teresa, Nanjang Technology University-Singapore
PS1-1A_5

How Project Level Initiatives Can Contribute to Regional and National Targets


Mr. Dharsono Hartono, CEO, PT Rimba Makmur Utama

Parallel Session 1-1 B: Mitigation in Asia – Lessons Learnt from Actions Taken by Various Stakeholders


Chair: Dr. Jun Ichihara, Chief Adviser, Project to Support the Planning and Implementation of NAMAs in a MRV Manner (SPI-NAMA) in Vietnam, JICA / IGES Rapporteur: Ms. Annuri Rossita
PS1-1B_1

Japan's Efforts on Mitigation in Asia


Mr. Ryuzo Sugimoto, Director, International Cooperation and Sustainable Infrastructure Office, Global Environmental Bureau, Ministry of the Environment, Japan (MOEJ)
PS1-1B_2

Current Status and Challenges to Implement NDC in Indonesia


Dr. Nur Masripatin, Indonesian Climate Change Focal Point
PS1-1B_3

Experience on the Implementation of T-VER – How T-VER Encourages Private Sector to Contribute to Meet NDC Target in Thailand?


Dr. Pongvipa Lohssomboon, Deputy Executive Director, TGO
PS1-1B_4

Toyota Environmental Challenge 2050 – Ever-better Manufacturing


Mr. Yoshihisa Nakagawa, Toyota Daihatsu Engineering & Manufacturing Co., Ltd., Japan
PS1-1B_5

Challenges to Promoting RE and EE


Dr. Ucok Siagian, Bandung Institute of Technology
PS1-1B_6

Addressing Global Challenges through Multi-Partnerships in Environmental Governance in Indonesia: Case of "Desa Makmur Perduli Api" (Prosperous Fire Free Village) Programme


Dr. Joni Jupesta, Senior Researcher, Research Institute of PT. Sinar Mas Agro Resource and Technology (SMART) Tbk

15:15-15:45 Break

15:45-17:45 Parallel Sessions (5 presentations X 15 minutes) + discussion (45 minutes)

Parallel Session 1-2 A: Urban and Rural Low Carbon and Climate Resilience Development


Chair: Dr. Akhmad Faqih, Lecturer, Bogor Agricultural University Rapporteur: Mr. Irfan Kemal Putra
PS1-2A_1

Paris Target and Challenges for Realizing Urban and Rural Low Carbon Development


Prof. Dr. Ambuj Sagar, Indian Institute of Technology Delhi
PS1-2A_2
Dr. Gabriel Grimsditch, United Nations Environment Programme (UNEP), Marine and Coastal Ecosystems Unit
PS1-2A_3

Low Carbon Farming


Prof. Dr. Sirintornthep Towprayoon, JGSEE-CEE, KMUTT, Thailand
PS1-2A_4

Integrated Watershed Management toward Low Carbon and Climate Resilient Communities: The Case of Santa Rosa-Silang Subwatershed


Prof. Damasa Macandog, University of the Philippines Los Baños
PS1-2A_5

Peat conservation and water management


Dr. Bandung Sahari, GAPKI

Parallel Session 1-2 B: Innovative Monitoring, Reporting and Verification System in Asian Countries


Chair: Dr. Shuichi Ashina, National Institute for Environmental Studies (NIES), Japan Rapporteur: Ms. Marissa Malahayati
PS1-2B_1

Spatial Low Carbon Modelling for Urban Development: Japan Experience


Dr. Kei Gomi, National Institute for Environmental Studies (NIES), Japan
PS1-2B_2

Lesson Learnt: Monitoring Impact of Adaptation Program in Indonesia using SIDIK


Ms. Sri Tantri , Ministry of Environment and Forestry, Indonesia
PS1-2B_3

Expanding Methodology Plan by Using Data Fusion Method


Dr. Seiya Maki, National Institute for Environmental Studies (NIES), Japan
PS1-2B_4

Challenges for Developing Effective MRV System for Industrial/Energy Sector


Dr. Retno Gumilang Dewi, Bandung Institute of Technology
PS1-2B_5

Monitoring System for Green Campus


Mr. Bregas Budianto, Bogor Agricultural University, Indonesia

Day 2 – November 22, 2018

09:00-12:30 Parallel Session (10 presentations X 15 minutes) + discussion (20 minutes) + break (10 minutes)
Room A: Parallel 2-1A and 2-2A (Venue: Mezzanine Ballroom)


Room B: Parallel 2-1B and 2-2B

(Venue: Monas 1)

Parallel Session 2-1 A: Unlocking the Potential of Tropical Forests for Climate Change Solution (selected papers)


Chair: Dr. I Putu Santikayasa Rapporteur: Ms. Ai Farida
PS2-1A_1

The role of multi-stakeholder forums in subnational jurisdictions in halting deforestation in Muaro Bungo, Jambi


Shintia Dian Arwida, Center for International Forestry Research (CIFOR)
PS2-1A_2

Lesson Learned of Social Forestry Practice in a Forest and Climate Change Project in Kalimantan, Indonesia


Fitta Setiajiati, Forest and Climate Change Programme – Financial Cooperation Module (FORCLIME FC)
PS2-1A_3

Mitigation: Lessons Learnt from Botanical Gardens in Indonesia


Oot Hotimah, Jakarta State University
PS2-1A_4

Potential of Eco-Tourism in Open Space of Kahayan Riverside Area of Palangka Raya City


Noor Hamidah, Department of Architecture, Engineering Faculty, Palangkaraya University
PS2-1A_5

Transforming A Tourism Destination Into A Green Economy: A Policy Analysis of Wakatobi Island, Indonesia


Pir Owners, College of Business Victoria University Melbourne
PS2-1A_6

Parallel Session 2-2 A: Urban and Rural Low Carbon and Climate Resilience Development (selected papers)


Chair: Dr. Akhmad Faqih Rapporteur: Mr. Irfan Kemal Putra
PS2-2A_1

District Level Carrying Capacity-Based Spatial Planning Towards Low Carbon Development


Triyoga Widiastomo, INOBU
PS2-2A_2

Vulnerability Analysis to Climate Change in Lembeh Island, North Sulawesi


Endang Retnowati, Yayasan Terumbu Karang Indonesia (TERANGI)
PS2-2A_3

The Role of Social Practices on the Climate Resilience of Fishermen Communities in Semarang Coastal Area


Choirul Amin, Faculty of Geography, University of Muhammadiyah Surakarta
PS2-2A_4

Lesson Learned from Belitung Mangrove Park: Converting inactive tin mining area to mangrove tourism park to support ecosystem rehabilitation and carbon sequestration


Mikael Prastowo Sesotyo Widodo, Yayasan Terumbu Karang Indonesia (TERANGI)
PS2-2A_5

Spatial Dynamics Of Agricultural Lands In Regions With High Pressure Land Use Change (Case Study of Purwakarta Regency)


Irman Firmansyah, System Dynamics Center
PS2-2A_6

Parallel Session 2-1 B: Mitigation in Asia – Lessons Learnt from Actions Taken by Various Stakeholders (selected papers)


Chair: Prof. Hidayat Pawitan Rapporteur: Ms. Annuri Rossita
PS2-1B_1

Challenges in Development of Mitigation Options: A Case of Bogor City


Syahrina D. Anggraini, CER Indonesia
PS2-1B_2

The Role of GHG Mitigation in Land-Use and Forestry Sector to the Economy in Indonesia


Marissa Malahayati, Research Assistant, NIES
PS2-1B_3

Analysis on Indonesian Forest and Land Fire Controlling Operational Policies. Case Study: Siak Regency, Riau Province


Irfan Kemal Putra, Natural Resources and Environmental Management Department, Bogor Agricultural University
PS2-1B_4

Drought Mitigation Strategy Of Farmer In South of West Java


Arini Hardjanto, Department of Resource and Environment Economics, Faculty of Economics and Management, Bogor Agricultural University
PS2-1B_5

Development of AIM/End-use Models for Selecting Low Carbon Technology in Indonesia's Iron and Steel Industry


Gissa Navira Sevie, Center for Research on Energy Policy Bandung Institute of Technology
PS2-1B_6

Fixed Carbon Biochar Potential of Palm Oil Empty Fruit Bunches as a Carbon Storage in Agricultural in Indonesia


Johanis R. Panggala, Natural Resources and Environmental Management Department, Bogor Agricultural University

Parallel Session 2-2 B: Innovative Monitoring, Reporting and Verification System in Asian Countries (selected papers)


Chair: Dr. Rahmat Hidayat Rapporteur: Ms. Marissa Malahayati
PS2-2B_1

Energy Efficiency Monitoring in Textile Industries for Achieving GHG Emissions Reduction Target in Indonesia


Rias Parinderati, Center for Research on Energy Policy Bandung Institute of Technology
PS2-2B_2

Combining Participatory Mapping, Cloud Computing and Machine Learning for Mapping Climate Induced Landslide Susceptibility in Lembeh Island, North Sulawesi


Safran Yusri, Yayasan Terumbu Karang Indonesia (TERANGI)
PS2-2B_3

Climate Change Impact: Evidence from Deforestation Model


Dr. Armi Susandi, Bandung Institute of Technology
PS2-2B_4

Projected changes in the characteristics of rain and temperature trends in Java Island using AIMS Model version 1.0


I Dewa Gede Arya Putra, Physics Department, Natural Science Faculty, Universitas of Indonesia
PS2-2B_5

Development Of Algorithms For Lst Measurement From NOAA-11/AVHRR Satellite Data


Cecep Rustana, Physics Departement – State University of Jakarta
PS2-2B_6

Modelling the Distribution of Porites (Poritidae) in Indonesia


Safran Yusri, Yayasan Terumbu Karang Indonesia (TERANGI)

12:30-13:30 Lunch Break

13:30-15:30 Plenary Session: How We Could Promote Evidence-Based Policymaking by Bridging the Gap between Policymakers and Research Communities?


Moderator: Dr. Toshihiko Masui, National Institute for Environmental Studies
Rapporteur: Ms. Syahrina D. Anggraini
P2_1

Introduction of This Session: Model and Policy Making Process


Dr. Toshihiko Masui, NIES, Japan
P2_2

Climate Mitigation Policies and Role of Models in Thailand


Prof. Bundit Limmeechokchai, SIIT-TU, Thailand
P2_3

Carbon Neutral Target and Role of Models in Bhutan (title: TBD)


Mr. Phuntsho Wangdi, Mechanical Engineer, Regulatory and Safety Division (RSD), RSTA, Thimphu
P2_4

Climate Development And Model in ISKANDAR Malaysia


Prof. Ho Chin Siong, UTM, Malaysia
P2_5

SDGs And National Policies


Dr. Tsuyoshi Fujita, NIES, Japan

15.30-17.00 Closing Session

P3_1

Report from ICLCA Mayors' Forum, University of Technology Malaysia (10 min)


Prof. Ho Chin Siong, UTM, Malaysia and Dr. Junichi Fujino, Programme Director, City Taskforce, IGES
P3_2

Report Back from Parallel Session 1A (10 min)


Ms. Ai Farida
P3_3

Report Back from Parallel Session 2A (10 min)


Mr. Irfan Kemal Putra
P3_4

Report Back from Parallel Session 1B (10 min)


Ms. Annuri Rossita
P3_5

Report Back from Parallel Session 2B (10 min)


Ms. Marissa Malahayati
P3_6

Discussion on Jakarta Declaration (20 min)

P3_7

Discussion on LoCARNet Future Plan (15 min)

P3_8

Closing Remarks (5 min)


Dr.Ir. Aji Hermawan, Head of LPPM, Bogor Agricultural University, Indonesia
Poster
P1

Ecological Study of Aboveground Biomass and Plant Species Diversity in Complex Agroforestry sites, Lampung, Indonesia


Eko Prasondita, Directorate of Climate Change Mitigation, MoEF
P2

Urban Demonstration Design for Low Carbon Landscape along Riparian Landscape of Ciliwung River, Bogor City


Regan Kaswanto, Division of Landscape Management, Department of Landscape Architecture, Bogor Agricultural University
P3

A preliminary study to determine Depik (Rasbora tawarensis) harvesting season in Lake Laut Tawar Takengon, Aceh Province, Indonesia based on climate approach


Ichsan Setiawan, Department of Marine Sciences, Faculty of Fisheries and Marine Sciences, Syiah Kuala University Banda Aceh
P4

Assessment of Coastal Vulnerability Index – CVI, Rembang Distric, Central Java


Sukron Romadhona, Soil Science, Jember University
P5

Carbondioxide Monitoring in GAW Bukit Kototabang and Jakarta


Arika Indri Dyah Utami, Center for Applied Climate Information Services (BMKG)
P6

The Dynamics Of Rice Cropping Calendar And Its Relation With The Enso (El Niño Southern Oscillation) And Iod (Indian Ocean Dipole ) In Monsoon And Equatorial Regions Of Indonesia


Yayan Apriyana, Research Institute for Agro-climate and Hydrology
P7

DHF vulnerability indicators valuation due to climate change in Semarang City


Cahyorini, Health Research and Development Agency, Ministry of Health of the Republic of Indonesia
P8

Environmental Communications: Model Advocacy Stakeholders In Terms Of Damage To The Leuser Ecosystem Of Aceh


Safutra Rantona, Communication Faculty, Universitas Padjadjaran