5th Annual Meeting of the LoCARNet in Bandung, Indonesia
Theme:Carrying out the Paris Agreement: Role of research communities in supporting science-based climate policy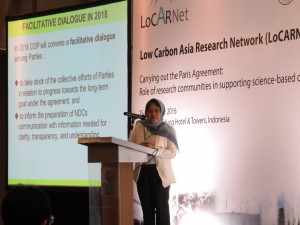 Date:25th – 26th October 2016
Organisers: Institute Teknologi Bandung (ITB), Bogor Agricultural University (IPB), National Institute for Environmental Studies (NIES), Ministry of Environment Japan (MOEJ), Ministry of Foreign Affairs Japan (MOFA), Institute for Global Environmental Strategies (IGES)
Venue:Sheraton Bandung Hotel & Towers, Bandung, Indonesia
5th LoCARNet Annual Meeting was held in Bandung, Indonesia co-organised by ITB, IPB, NIES, MOEJ, MOFA and IGES on 25th – 26th October 2016. About 84 people including researchers, government officers and NPO staffmember participated in the meeting. In this meeting, with the theme of "Carrying out the Paris Agreement: Role of research communities in supporting science-based climate policy", the lively discussion on urgent issues in Asia, such as; Low Carbon City, Inovative monitoring system, Land use, adaptation, formulate and implementation of NDCs and Capacity building method, was made by experts of research sector, government sector, public sector and international organizations who were gathered from each countries in Asia.
In this Annual Meeting, participants could share the knowledge about policies or environmental investments in Asian countries/cities, and also could promote the dialogue among the variouse stakeholders including researchers, policy makers, public sector and international organizations.
LoCARNet has organized capacity buildings or annual meetings since it was establisehd on the purpose of strengthening and training of research communities based on the features of the Asian region.
During the Annual Meeting, "Seminar for Capacity Development for Transparency to Implement the Paris Agreement" was held sponsored by the Ministry of Foreign Affairs Japan as one parallel session. Total 37 participants from 6 countries and 1 international organization discussed about what the necessary capacity building should look like in order for developing countries to fulfill the obligations they have newly taken on under the Paris Agreement.
"Seminar for Capacity Development for Transparency to Implement the Paris Agreement"
Summary for the seminar (from MOFA website)
http://www.mofa.go.jp/ic/ch/page24e_000192.html
LoCARNet 5th Annual Meeting Programme and Presentations 
Day 1

Introductory Session

Intro

Welcoming Speech


Prof. Ucok Siagian, ITB, Indonesia
Dr. Shuzo Nishioka, Senior Research Advisor, IGES, Japan / Secretary-General, LoCARNet
Dr. Tsuyoshi Fujita, Director, Center for Social and Environmental Systems Research, NIES, Japan
Mr. Yoshihiro Mizutani, Director, International Cooperation Office, Ministry of the Environment, Japan (MOEJ)

Paris Agreement and Follow up Agenda for its Implementation


Dr. Nur Masripatin, Director General of Climate Change, Ministry of Environment and Forestry, Indonesia

Keynote Presentations

KN-1
Y.B Datuk Ayub Bin Rahmat, Johor State Executive Council for Health and Environment, Malaysia
KN-2

The way to low carbon society: Challenge of the world and Asia


Dr. Shuzo Nishioka, Senior Research Advisor, IGES, Japan / Secretary-General, LoCARNet

Parallel Session – 1: AFOLU


Co-chairs: Prof Rizaldi Boer,CCROM-SEAP Bogor Agricultural University (IPB), Indonesia
Dr. Agus Susatya, APIK, Bengkulu University, Indonesia
PS1-0

Decarbonization on small scale: Lesson learnt with community on MULTI STAKEHOLDER PROCESSES: A long way to Self Implementation of REDD+at Air Lanang Social forest, Rejang Lebong, BENGKULU


Dr. Agus Susatya, Universitas Bengkulu, Indonesia


PS1-1

Challenges and opportunities for the implementation of land-based low carbon development in Merauke


Mr. Fredericus Gebze, SE, MSI,Regent of Merauke District, Papua Province, Indonesia
PS1-2

Challenges and Opportunity to deep decarbonizing Agriculture, Forest and other land use sector


Dr. Nguyễn Huy Thắng, Forest Inventory and Planning Institute, Viet Nam
PS1-3

Scientific Community Role in Designing Deep Decarburization Strategies for Land Base Sector


Dr. Abdul Rauf, Forest and Climate Change Research Association: APIK-UNTAD, Indonesia
PS1-4

Sambuponti Nozzle(New Innovation) : Maximizing Control On Land And Forest Fire Safety, Secure, Comfort, Useful and Multifunction


Mr. Sambusir Yusuf, PT. Finantara Intica, Indonesia


PS1-5

Impact of Climate Change on NTFPs and Effectiveness of REDD+ Implementation in Danau Sentarum National Park


Mr. Jusupta Tarigan,Non Timber Forest Product (NTFP-EP), Indonesia

Parallel Session -2: Innovative Monitoring System and its Role in Building a Low Carbon Asia


Co-chairs: Dr. Shuichi Ashina, NIES, Japan
Dr. Tsuyoshi Fujita, NIES, Japan
PS2-1

Development of a Holistic Innovative Monitoring System toward Low Carbon Future in Asia: From Surface to Satellite


Dr. Shuichi Ashina, NIES, Japan
PS2-2

Carbon monitoring in peatland restoration program


Dr. Ryuichi Hirata, NIES, Japan
PS2-3

Indonesia's National Forest Monitoring System


Dr. Ruandha Agung Sugardiman, Ministry of Environment and Forestry, Indonesia
PS2-4

Social Monitoring System in Bogor


Dr. Muhammad Ardiansyah, IPB, Indonesia
PS2-5

Indonesian MRV System


Prof. Ucok Siagian, ITB, Indonesia
PS2-6

Design of the district heating system based on the heat density map


Dr. Takaaki Furubayashi, Tohoku University, Japan
PS2-7

Bogor City Low Carbon Policies And Expectation of Monitoring Towards Sustainable Smart City


Mr. Toto M. Ulum, Bogor City, Indonesia
PS2-8

Verification System for Climate Village Program (ProKlim)


Ms. Tri Widayati, Ministry for Environment and Forestry, Indonesia
PS2-9

Regional Low Carbon Innovation through Hybrid Approach with Monitoring and Modelling


Prof. Tsuyoshi Fujita, NIES, Japan

Parallel Session – 3: Low Carbon Cities


Co-Chair: Prof. Ho Chin Siong, UTM, Malaysia
Dr. Junichi Fujino, IGES, Japan
PS3-1

MOEJ's Environmental Cooperation through City-to-city Collaboration in Asia


Mr. Yoshihiro Mizutani, MOEJ, Japan
PS3-2

Green City Initiatives


Ms. Nik Mastura Diyana, Kuala Lumpur City Hall, Malaysia
PS3-3

Low carbon cities in Vietnam


Dr. Nguyen Tung Lam, Institute of Strategy, Policy on Natural Resources and Environment (ISPONRE), Vietnam
PS3-4

Study on Haiphong Low Carbon City


Ms. Vu Thi Thu Huong, Haiphong Department of Natural Resources and Environment (DONRE), Vietnam
PS3-5

The Emergence and Challenges of Low Carbon Development in the City of Semarang


Mr. Rukuh Setiadi, Diponegoro University, Indonesia

Day 2

Parallel Session – 4: Adaptation


Chair: Prof. Dr. Hidayat Pawitan, IPB, Indonesia
PS4-1

Role of Scientific Community in Supporting Climate Resilience Agriculture Development in Indonesia


Dr. Elza Surmaini, PERHIMPI, Indonesia
PS4-2

Local Technologies for Developing Climate Resilience Farming in Coastal Areas


Mr. Kustiwa Adinata, Indonesian Farmers Association for IPM, Indonesia
PS4-3

Challenges in the Implementation of Climate Index Insurance for Enhancing Community Capacity in Managing Climate Risk


Mr. Prananto Mori, Syngenta Foundation for Sustainable Agriculture, Indonesia
PS4-4

Reducing loss and damage through CCA-DRR-L&D integration in Southeast Asia


Ms. Ana Veronica Gabriel, OML Centre-Philippines
PS4-5

Characterizing Loss and Damage due to Climate Change


Ms. Kiki Kartikasari, CCROM-IPB, Indonesia

Parallel Session – 5: NDC and beyond


Co-Chairs: Mr. Naoki Mori, IGES, Japan
Dr. Ucok Siagian, ITB, Indonesia
KN-3

Structure NDC Indonesia


Endang Pratiwi, Ministry of Environment and Forestry, Indonesia
PS5-1

Inteded Nationally Determined Contribution of Cambodia


Dr. Hak Mao, Ministry of Environment, Cambodia
PS5-2

Vietnam's NDC Implementation Challenges and Opportunities


Dr. Nguyen Tung Lam Institute of Strategy, Policy on Natural Resources and Environment (ISPONRE), Vietnam
PS5-3

Support of Integrated Assessment Modeling for Capacity Development in Asia


Dr. Toshihiko Masui, NIES, Japan
PS5-4
Capacity-building within the Paris Agreement
Ensuring action and support on climate change
Mr. David Abbass, UNFCCC IGES Regional Collaboration Centre, Bangkok
PS5-5
Toward Increasing Effectiveness of Capacity-building
-For a better response to increasing needs for INDC preparation/implementation and beyond-
Mr. Makoto Kato, Overseas Environmental Cooperation Center (OECC), Japan
PS5-6
Role of research communities towards NDC development and implementation
AIMS contribution to science based policy making and implementation
Prof. Ho Chin Siong, Universiti Teknologi Malaysia (UTM), Malaysia
PS5-7

Toward realizing 2oC/1.5oC target: Why deep decarbonization is required and what kinds of pathways can achieve it?


Dr. Mikiko Kainuma, IGES, Japan

Closing Session


Chair: Dr Sirintornthem Towprayoon, JGSEE, Thailand
WU-PS1

Report Back from Parallel Session1


Ms. Ratna Patriana, CCROM SEAP, IPB, Indonesia
WU-PS2

Report Back from Parallel Session 2

WU-PS3

Report Back from Parallel Session 3


Dr. Junichi Fujino, NIES, Japan
WU-PS4

Report Back from Parallel Session 4


Ms. Ratna Patriana, CCROM SEAP, IPB, Indonesia
WU-PS5

Report Back from Parallel Session 5


Mr. Naoki Mori, IGES, Japan

Discussion on "Bandung Declaration"


Round table: Prof. Ucok Siagian, Dr Sirintornthem Towprayoon, Prof. Ho Chin Siong, Dr. Toshihiko Masui, Dr. Ngyen Tung Lam, Dr. Hak Mao, Cambodia

Discussion on LoCARNet Future Plan


Round table: Prof. Ucok Siagian, Dr Sirintornthem Towprayoon, Prof. Ho Chin Siong, Dr. Toshihiko Masui, Dr. Ngyen Tung Lam, Dr. Hak Mao, Cambodia

Closing Remarks


Prof. Ucok Siagian, ITB, Indonesia