Side Event on East Asia Low Carbon Growth Partnership Dialogue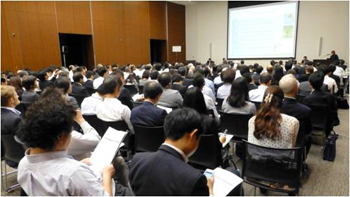 ■ Date: 17 May 2013 (Friday) 13:30-17:30
■ Venue: Tokyo, Japan
■ Co-organisers
– National Institute for Environmental Studies (NIES),
– Japan International Cooperation Agency (JICA),
– Institute for Global Environmental Strategies (IGES)
– Low Carbon Asia Research Network (LoCARNet)
Prior to the East Asia Low Carbon Growth Partnership Dialogue to be held on 18 May 2013, the National Institute for Environmental Studies (NIES), the Institute for Global Environmental Strategies (IGES), and Japan International Cooperation Agency (JICA), jointly held a side-event entitled "East Asia Knowledge Platform for Low Carbon Growth" on 17 May in Tokyo.
In the side event of Second East Asia Low Carbon Growth Partnership Dialogue, co-chair of the dialogue, H.E. Dr. Mok Mareth, Senior Minister, Minister of Environment, Cambodia gave a keynote speech. In this speech, he emphasised that the study on a design of low carbon development plan for Cambodia that has been conducted with the support from Japanese organisation and academia is the first ever study conducted by a Cambodian researchers. It becomes a very important research documents for Cambodia.
In the first part, the country and regional progress reports on next steps and stronger collaboration in Asia was presented by governmental officials in Thailand, Indonesia, Vietnam and Malaysia. In Malaysia, activities in city level were addressed while other countries spoke their progresses of low carbon development in national level. In the second part, a question on what actions can be taken by local governments, business, international organisations and academia was addressed by the session chair and speakers from ADB, UNIDO, UNEP, Japan Business Federation, City of Yokohama, City of Kitakyushu and USAID presented their activities to enhance low carbon growth in Asia.
The result of the event also refers in the link below
http://www.iges.or.jp/en/cp/activity20130517.html
Other documents:
East Asia Low Carbon Growth Platform.pdf (available in Japanese)
LoCARNet Newsletter_Special_201305.pdf
Cambodian Workshop Summary_20130422.pdf