LoCARNet Iskandar Malaysia Declaration was launched at the 4th Annual Meeting in Johor Bahru, Malaysia
The Fourth Annual Meeting of the LoCARNet was held on 11-13 October 2015 in Johor Bahru, Malaysia.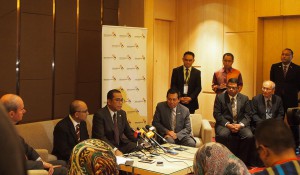 LoCARNet Iskandar Malaysia Declaration ~ Stabilising climate through low carbon actions in Asia – Road to COP 21 and Beyond ~ was launched and finalized after confirmation with the steering group member of LoCARNet and the participants of the Annual Meeting. It was announced at a press conference to local newspaper publishers, and will be disseminated to the world at COP21 and other international opportunities.
It consists of six items including:
focusing on Asian wisdom which potentially underpins the success of any international and regional climate change mitigation and adaptation efforts;
new opportunities and possibilities for economic growth in Asia via green growth;
necessity of inclusive and enabling climate policies to empower highly diverse people in Asia to take positive actions for climate stabilisation;
protect, restore and promote sustainable use of terrestrial ecosystems, as well as oceans and marine resources;
significance of 'Science-into-Action' (S2A);
proposal of global and regional smart partnerships as a key success factor for the transition towards resilient low-carbon society.
It concludes that Asia is ready to contribute, positively anticipates and will strongly support the desirable outcomes of the Paris Climate Change Agreement.
Please download the LoCARNet Iskandar Malaysia Declaration from following link.
LoCARNet Iskandar Malaysia Declaration_as of 20151013